Ningbo Iceberg Electronic Appliance Co., Ltd. was established in 2015 year, is a collection of research and development, manufacturing, sales as one of the production-oriented enterprises, in the domestic mini refrigerator, car refrigerator market has not yet developed, it began to engage in a variety of mini fridge, car fridge sales and manufacturing. With the expansion of the company's development scale, we have more and more customers, To meet the needs of customers, fill in the company's product gaps,Since 2019, ICEBERG has invested huge funds to develop a series of cosmetics refrigerators, Invited the most famous design team in China to jointly develop the 5L, 12L double door cosmetic refrigerator and 12L single door cosmetic refrigerator of PINKTOP series.
Before that, no other Chinese enterprise had designed and produced this type of refrigerator.
The market feedback was strong, and people were amazed at its perfect design and function.it is not only the most beautiful furniture in the bedroom, but also has a constant temperature of 10 ℃. It can best protect your skin care products in spring, summer, autumn and winter.

This is one of the most beautiful cosmetic mini fridge in the world,each internal space performs its own duties,inside the shelf can be placed long bottles of skin care products, as well as a variety of face cream shelf. There is a large drawer at the bottom for facial mask, and then a dozen lipsticks can be placed on the shelf on the door panel.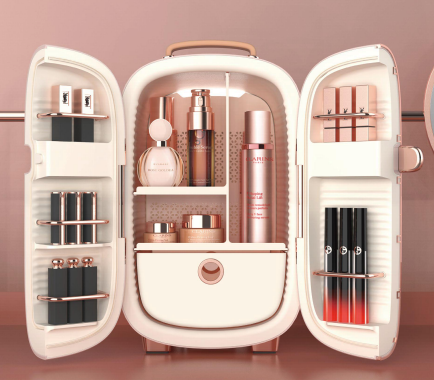 This is our flagship model,there is a digital display screen on the door panel, which can display temperature, time and different modes,It meets the highest needs of ladies for cosmetics mini fridge.
This is just one of the manifestations of ICEBERG's strong R&D strength,we also have a series of 5L, 6L, 9L cosmetics mini fridge in different sizes.
If you want to know more, please visit our homepage
---
Post time: Nov-30-2022